Challenge Course
30 Years of adventure and growth
Since 1986 the Beaver Camp Challenge Course has helped to facilitate growth and success for countless groups and individuals. Growth on the challenge course takes places through a progression of warm-up games, trust activities, initiative problems and high elements that combine fun and challenge. The challenge course, and all our activities, are tools to help facilitate growth within your group; individually and corporately. Expect to be challenged and to have fun as our qualified facilitators lead you toward your desired goals.
Areas of growth that can be achieved on the course:
Greater trust and teamwork within group
Increased sense of Self-esteem and confidence
Improved collaboration and communication skills
Shared experience of adventure and fun in a safety-minded environment
Setting and achieving goals
Shared experience of success by working together to solve problems or elements
Individual experience of success by pushing oneself and accepting challenges
Processing and learning from experiences (Experiential Education)
The Challenge Course is perfect for:
Schools & Colleges (Teams & Extracurricular Groups)
Youth Groups
Church Leadership Teams
Corporate Teams
Families
Any Leadership Development Program
Organizational Boards, Clubs & Benevolent Organizations
Any other group desiring improved inter-personal relationships!
We can come to you!
We are also able to bring a challenge course-type experience to your location if you desire. This type of team-building event would include games and initiatives using props that our facilitators will bring to your site. We can lead your group in an experience anywhere from 2 hours to all day. This experience, as well as the challenge course itself, can be altered for groups with low to high physical abilities.
Planning your experience:
We will communicate with you ahead of time to learn a little about your group and what types of goals you have for your time on the challenge course. Your experience can be tailored for your group and the specific growth you seek. Most experiences include all or some of the following:
Introductions and warm-up games
Initiatives
Low elements
High elements (16 to choose from including Giant Swing and 400' Zip Line)
Debriefing and wrap-up
Participants must be at least 8 years old. Minimum group size is 10 people. You may book a half-day experience at $23 per person or full day experience at $36 per person ($28 per person for school groups). These rates also apply to off-site team-building sessions. Discounts can be negotiated with church and school groups. Advance reservations are required.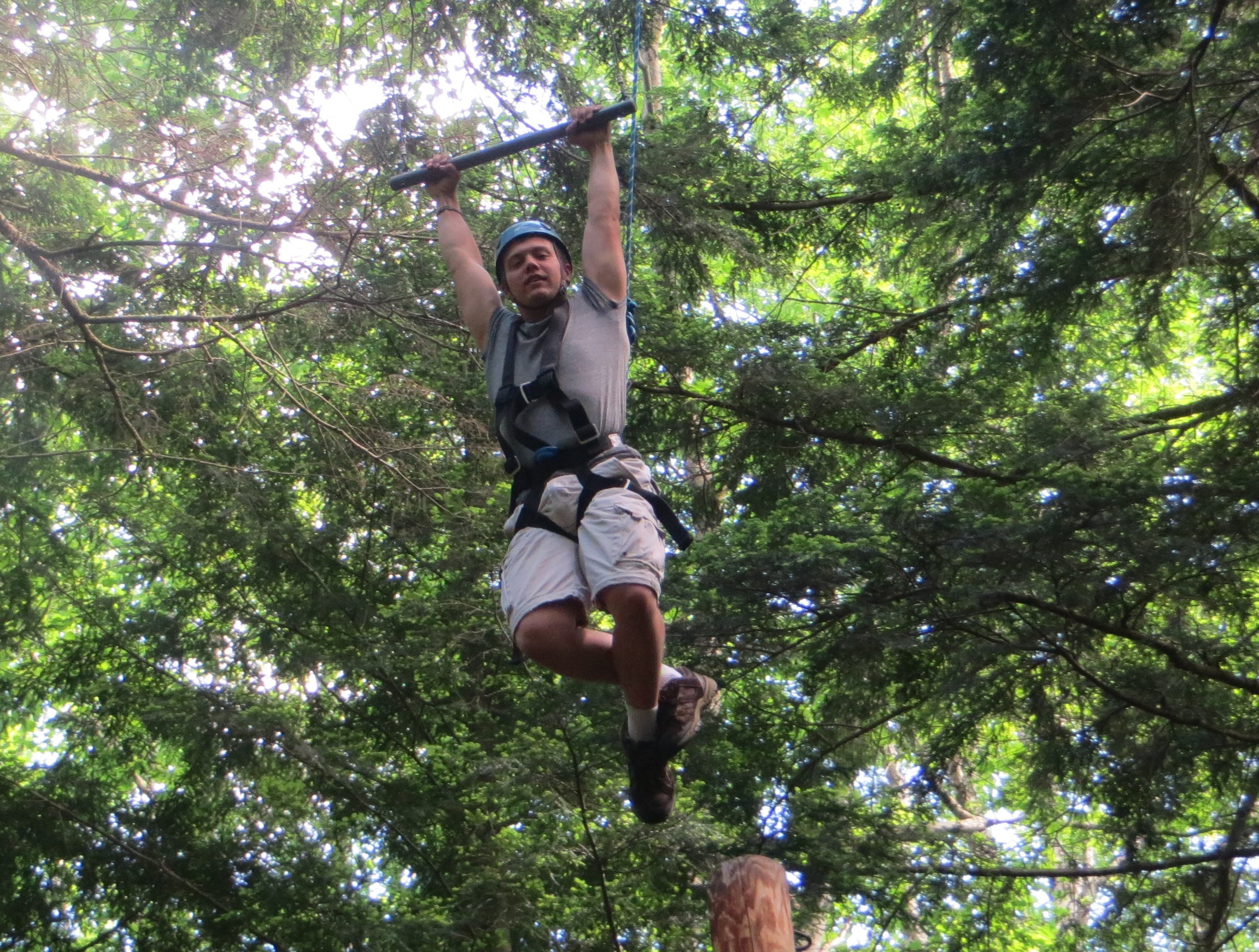 Optional Christian Perspective
Our facilitators are committed Christians and prepared to lead from that perspective. If you choose, your time on the Challenge Course can begin and end in prayer and your group processing can be expanded to relate to experiences of the Christian life.
Contact the camp office with any questions or to book your experience at This email address is being protected from spambots. You need JavaScript enabled to view it. or 315-376-2640.