Scrapbook Retreats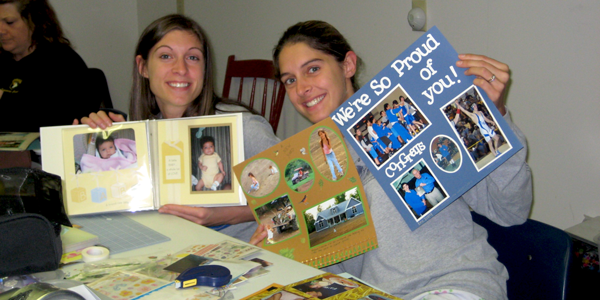 March 29-30, October 25-26, & November 8-9, 2019
A good place to create good memories! Great fellowship times combined with plenty of time to scrapbook make this a memorable weekend. This women's retreat officially begins at 1:00 pm Friday and ends Saturday at 9:00 pm. However, you are invited to spend Saturday night (includes breakfast on Sunday), or come early and spend Thursday night (no meals included) for an additional fee. Several vendors will be available to purchase scrapbooking items from.
"[This retreat] is like being in heaven for me; relaxing, inspirational and fellowship time with friends" 2015 Scrapbooker
"Very relaxing, good company, a great way to get a lot of scrapping done, meet new friends and go away with a feeling of accomplishment and revival." 2015 Scrapbooker
Lodging Options
You can choose to stay in either a Motel Room or a Cabin.
Motel Rooms are outfitted with a private bath, queen bed and bunks. All are heated and contain a dorm-sized refrigerator and microwave and sleep a maximum of 4 people. Towels, bedding and linens are provided for the queen bed only. Cabins are heated rooms with bunks. Each cabin holds 6-14 persons and is adjacent to full bath facilities. Smaller parties should expect to share the cabin with other groups.
Click Here for a paper registration form.
rates
Basic Retreat (Friday 1 pm to Saturday 9 pm):
| | |
| --- | --- |
| Cabin: | $98/person |
| Motel: Single | $155/person |
| Motel: Double | $110/person |
| Motel: Triple+ | $98/person |
Optional Saturday Night (includes Sunday breakfast):
| | |
| --- | --- |
| Cabin: | $34/person |
| Motel: Single | $80/person |
| Motel: Double | $46/person |
| Motel: Triple+ | $34/person |
Optional Thursday Night (no additional meals included):
| | |
| --- | --- |
| Cabin: | $26/person |
| Motel: Single | $72/person |
| Motel: Double | $38/person |
| Motel: Triple+ | $26/person |