Beaver Camp in a Box
We're bringing summer camp to you in a whole new way!
Join the fun by ordering Beaver Camp in a Box HERE.
Based on the recommendations from the American Camp Association and CDC, we will not have an onsite summer camp program in 2020. However, we're excited to fulfill our mission of providing programs infused by God's love with brand new resources created just for you.
Nothing can truly replace a week at Beaver Camp in the Adirondacks. We might not be together, but we can still have the best summer yet!
Here is what is included in Beaver Camp in a Box:
Personalized letter from our summer staff team and postcards to respond
Printed devotional with expanded journaling options (suitable for ages 8-18)
Commemorative 2020 tshirt
Bandana
Nalgene
Beaver keychain
Rope for knot tying, inspected and approved by Adam Houser, Beaver Camp's Adventure Education Director
Beaver Camp hot cocoa
Weekly activity challenges
Sticker
and more!
Call us at (315) 376-2640 to preorder your Beaver Camp in a Box by June 20. Online ordering will be available soon. Boxes will be shipped by July 20.
Beaver Camp will be sharing videos, a printable devotional, and other
free
resources throughout the summer to encourage, educate, and entertain our campers. These videos will include camp songs, Fireside messages, skits, news from staff, nature presentations, and more - and this will always be
free
. More information about these projects will be published here soon, but
subscribe to our YouTube channel
and
follow us on Facebook
to get a notification whenever we share something new
Keep reading for more free activities!
Goose Attack
Enjoy this printable Battleship-style game for two or more players! Protect your swimmers, canoe, sailboat, AquaJump, and loon as you launch wild geese at other players. Click here to download the PDF: Goose_Attack.pdf

Signs of Spring BINGO
As you discover signs of spring, keep track of what you see on this BINGO card. How many "rows of 5" can you make? Click here to download the PDF: Spring_Bingo___Beaver_Camp_2020.pdf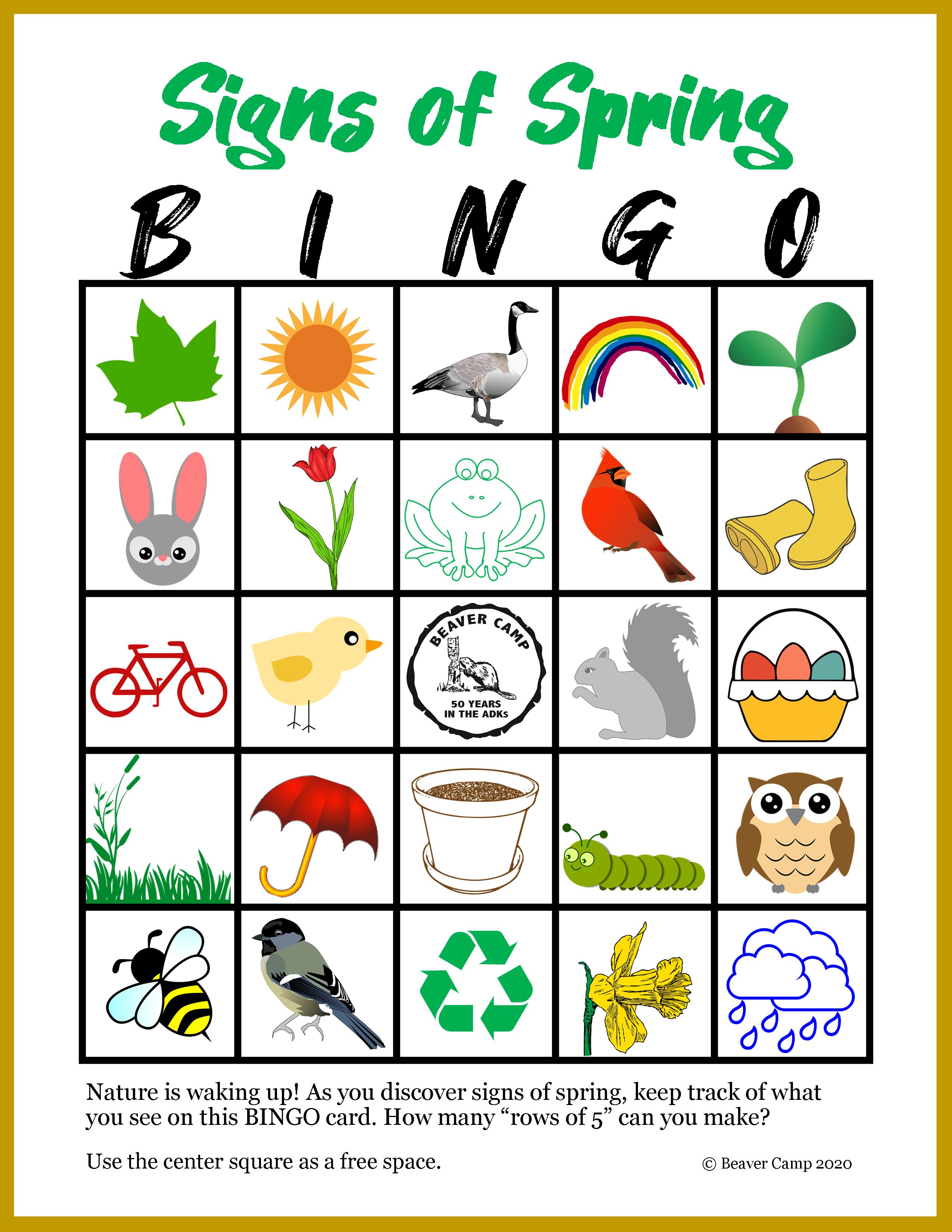 Lunchtime Live with The Wild Center
The Wild Center in Tupper Lake is hosting live animal encounters and behind-the-scenes looks on their Facebook page at noon on weekdays. It's a great, interactive way to learn more about the Adirondacks!
Drawing Lessons
We haven't stocked our craft cabinet for this summer yet, but hopefully you can find some art supplies at home for these free lessons! Mo Willems is hosting LUNCH DOODLES on Youtube. Wendy MacNaughtonis hosting a drawing class each weekday at 1:00 PM on Instagram. Local artist Ellie Steltz of Misc. Delights Co. has a digital download version of her calligraphy workbook available for $6.
Have an idea for something we could share? Contact David Nisley, our Program Coordinator, at This email address is being protected from spambots. You need JavaScript enabled to view it..