Resources for Kids at Home
We'll be sharing free resources here to encourage, educate, and entertain kids while they're at home! Follow us on Facebook so you know when a new activity, game, or event is available.
Signs of Spring BINGO
As you discover signs of spring, keep track of what you see on this BINGO card. How many "rows of 5" can you make? Click here to download the PDF: Spring_Bingo___Beaver_Camp_2020.pdf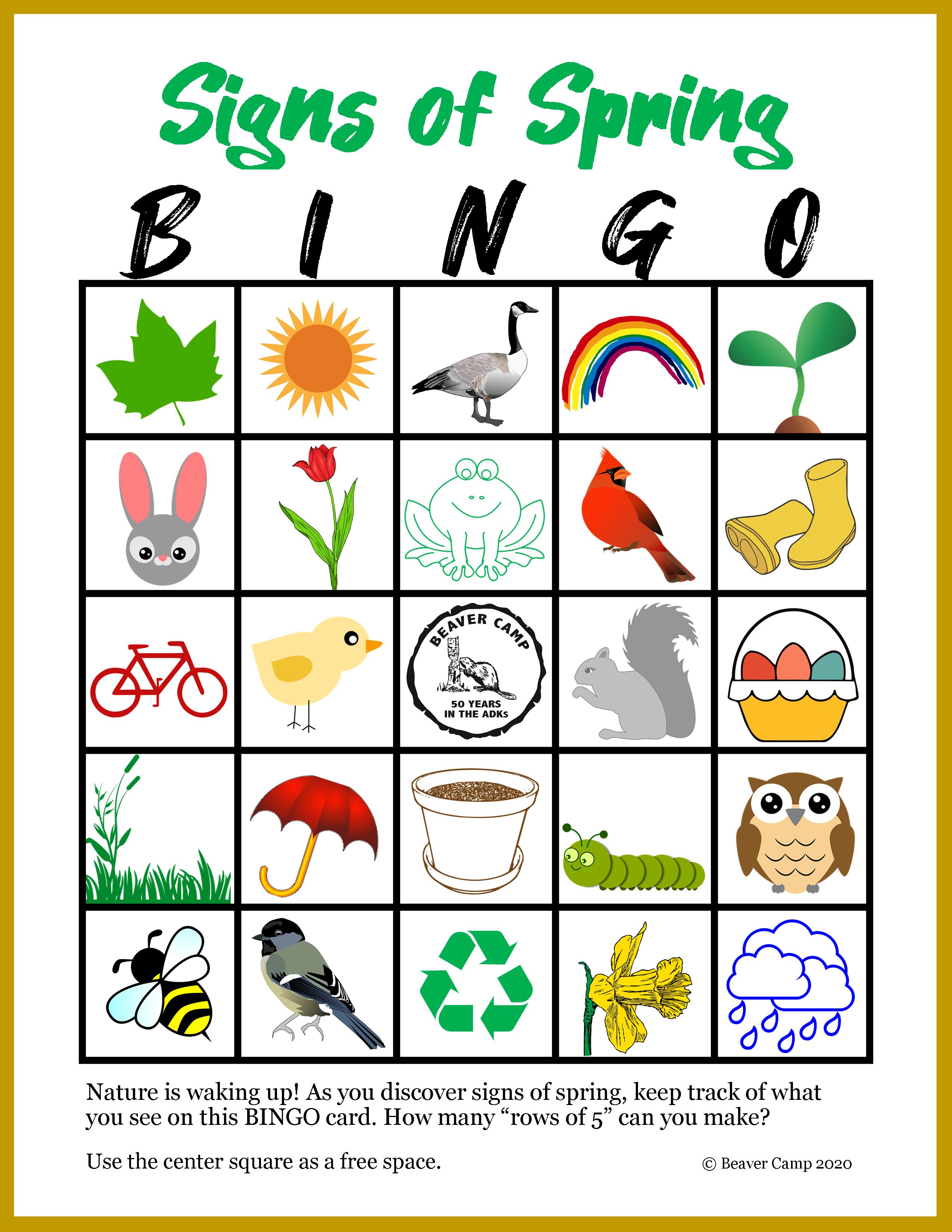 Lowville Easter Egg "Hunt": April 8-12, 2020
Get ready to use your observation skills for an Easter egg "hunt" around the village of Lowville. Residents and businesses can display a paper Easter egg in the window or get creative with a 3D decoration outside. Families can explore the village April 8-12 to "find" as many of the eggs as possible. This is a visual scavenger hunt only! Like we tell our young scientists during the nature programs at Beaver Camp: you can look, but don't touch. Remember to practice social distancing if walking around the village. Click here for a printable Easter egg design that you can decorate: Easter_Egg_Designs.pdf
Lunchtime Live with The Wild Center
The Wild Center in Tupper Lake is hosting live animal encounters and behind-the-scenes looks on their Facebook page at noon on weekdays. It's a great, interactive way to learn more about the Adirondacks!
Drawing Lessons
We haven't stocked our craft cabinet for this summer yet, but hopefully you can find some art supplies at home for these free lessons! Mo Willems is hosting LUNCH DOODLES on Youtube. Wendy MacNaughtonis hosting a drawing class each weekday at 1:00 PM on Instagram. Local artist Ellie Steltz of Misc. Delights Co. has a digital download version of her calligraphy workbook available for $6.
Have an idea for something we could share? Contact David Nisley, our Program Coordinator, at This email address is being protected from spambots. You need JavaScript enabled to view it..